The Palace's Newsroom
Welcome to the Miss Universe Pageant Palace's Newsroom! See the pictures, read the text, and learn the lingo! You'll find related articles in here!
Pageant Dominion is Launched!
22 May 2001
A new and fresh site was just launched. It is the Pageant Dominion. The site features International Pageants such as Miss Universe, Miss World, Miss International, Miss Asia-Pacific, and the upcoming Miss Earth.
Click the link to go to the site:
---
Miss Universe 2001 is Miss Puerto Rico!
12 May 2001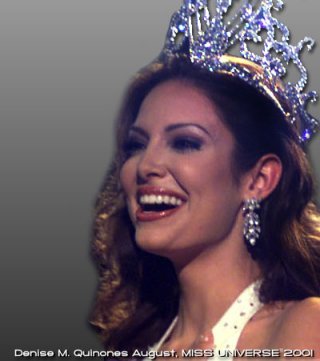 12 May 2001 (Pacific Time), Miss Puerto Rico, Denise M. Quiñones August, was declared Miss Universe 2001! Obviously, it was a hometown decision.
Puerto Ricans were very much proud of their representative and they showed their support all the way!
If you saw the pageant, Miss Puerto Rico, Denise M. Quiñones August had a straight win! She was Miss Photogenic, Best in Swimsuit, Best in Evening Gown, and she also received the Clairol Herbal Essences Style Award (beat that, huh?)
---
Miss Puerto Rico is Miss Photogenic 2001!
07 May 2001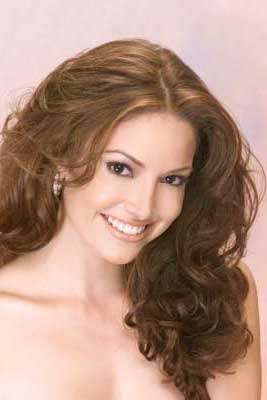 Miss Puerto Rico, Denise Quiñones, was awarded Miss Photogenic 2001 on 06 May 2001!
---
Miss Photogenic 2001 will be Elected by Site Visitors
02 May 2001
This year's pageant, the Miss Universe Organization is making a slight difference. For the first time in Miss Universe history, the Candidate who will win the Miss Photogenic 2001 Award will be voted upon site visitors who wish to participate. The winner will be announced during the Miss Universe 2001 Coronation Night, on 11 May 2001.
To vote for your choice of Miss Photogenic 2001, visit the official site of Miss Universe at http://www.missuniverse.com
---
Fresh and Radiant Miss Colombia
in Puerto Rico
Correspondent: Jacomo Are
24 April 2001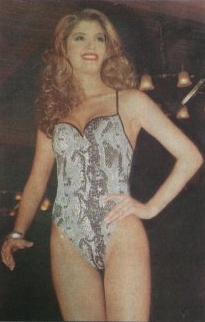 On Sunday, 22 April 2001 Miss Colombia left her country and went to Puerto Rico to compete in the Miss Universe Pageant 2001. She left with a suitcase full of illusions and real jewels of the current Colombian mode. The wardrobe that Andrea will wear during the whole contest was designed by HERNAN ZAJAR and FRANCESCA MIRANDA.
Last Friday, it was known in Cartagena, Andrea Noceti's birthplace, and permanent headquarters of the National Beauty Contest, a parade of welfare in favour of the foundation Children of Mercedes, in which Miss Colombia showed all her apparel already finished and achieved in these six months of preparation that they included, eleven days in Venezuela taking advise with OSMEL SOUZA, president of the contest of the neighboring country. Andrea showed an aggressive managing that surely will be locating in an honorable position in Miss Universe 2001.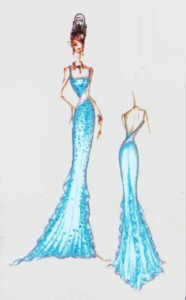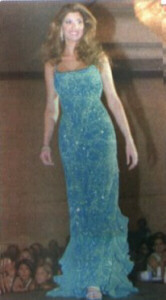 This is the finish product of the evening gown that Andrea will wear during the preliminaries and during the coronation night of Miss Universe 2001. This gown is elaborated in chiffon of silk blue color turquoise, of classic cut and rather simple. The garment has square neckline and is completely embroidered in precious stones and shiner yarns in the tone of the fabric; with the lower part of the dress, three waterfalls part of chiffon that gives her mobility. The gown was designed by Hernan Zajar.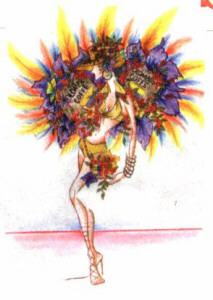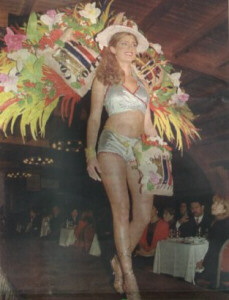 This is the National Costume that Andrea will be wearing. It is an allegory to Colombia's natural wealths, as shown by the flowers and the coffee. The costume comes with a short and a top in lamé silvering re-embroidered in small fruits of coffee elaborated in a handcrafted way, and a plume of feathers and flowers at the back like a tail of real turkey. The design belongs to Hernan Zajar.

---
Miss Colombia,
all set for the Miss Universe Pageant 2001!
Correspondent: Jacomo Are
21 April 2001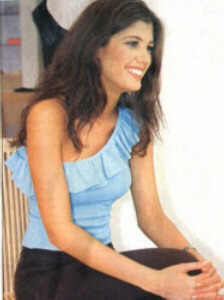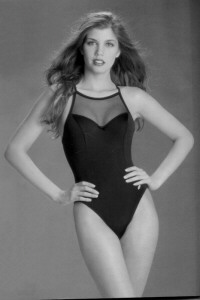 This is Miss Colombia 2001, Andrea Noceti. In five months of preparation, her beauty already shines with her short hair, an impeccable body. In the web pages in which the candidates of Miss Universe 2001 publish themselves, this young Colombian lady is great favorite. Good luck Andrea!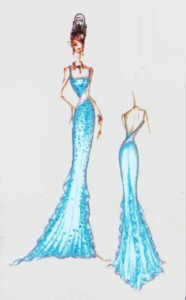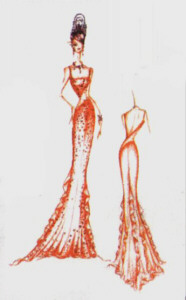 The dresses that Andrea Noceti will wear for the Coronation night of the MissUniverse Pageant are
creations of Hernan Zajar. These sketches have the same design, but different color. Andrea Noceti chose the turquoise gown because turquoise is her favorite color.
Truly, Andrea Noceti, who will represent Colombia will shine during the Miss Universe Pageant 2001!
Andrea consulted Osmel Soussa, president of Miss Venezuela, during her two weeks in Caracas. She will return to Colombia to fulfill some social commitments. She will fly to Puerto Rico on 27 April 2001.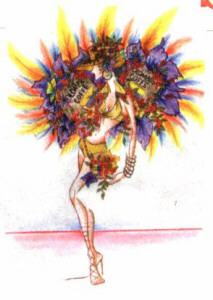 The National Costume that Andrea will wear is an allegory to the wealth of Colombia.

[ Miss Universe Titleholders ] [ Queen of the Palace ] [ Winning Moments ]
[ Miss Universe 2001 Candidates ] [ Visitors' Choice ] [ Miss Universe 2001 Coverage ]
[ Chance to Answer ] [ Crystal Crown Awards ] [ Send A Postcard ]
[ The Palace's Newsroom ] [ Links ]