Send A Postcard
Here's your chance to send a postcard to your relatives, friends, or to anybody! The images of the postcards available will change every month and every year.
For this year, our images will focus on Miss Universe 2001, Miss Puerto Rico, Denise M. Quiñones August!
Just click the link below:

Send A Postcard!
Pictures this month: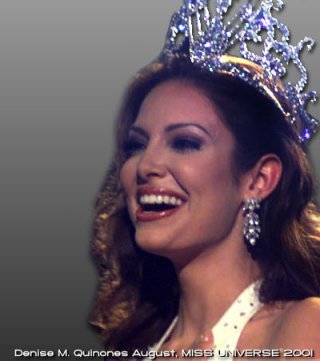 Pictures courtesy of Miss Universe LP, LLLP

[ Miss Universe Titleholders ] [ Queen of the Palace ] [ Winning Moments ]
[ Miss Universe 2001 Candidates ] [ Visitors' Choice ] [ Miss Universe 2001 Coverage ]
[ Chance to Answer ] [ Crystal Crown Awards ] [ Send A Postcard ]
[ The Palace's Newsroom ] [ Links ]